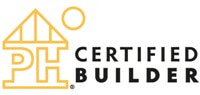 We are excited to announce that the results are in and Reis Calfayan is officially a PHIUS Certified Builder. He proudly adds this to the long list of certifications he has earned over the years as he continues his efforts to bring the best blend of traditional craftsmanship and building science & technology to every project.
Those who know him know that Reis tends to "push the envelope". He enjoys being innovative and loves to learn and he hopes to inspire this same passion in his Calfayan Construction crew members. His tenacity has helped him to build a successful business that has thrived for 20 years.
Becoming a PHIUS Certified Builder has been a goal for some time and fits into Reis's desire to always be improving. Reis is eager to put the knowledge into action.
If building a Passive House is on your agenda, call
Calfayan Construction Associates today at 215.947.5170
to discuss the project.